Dear Reader,
I want you to take a close look at the picture of these pills…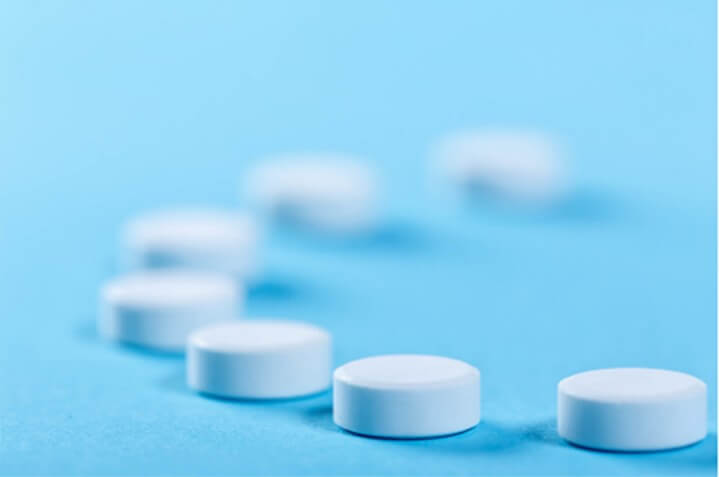 To the naked eye, they look no different than allergy tablets or perhaps some type of over-the-counter painkiller like ibuprofen.
But that couldn't be further from the truth.
In fact, these pills, which are smaller than a fingernail, hold what could be the most important innovation in medicine since the advent of penicillin.
Why?
Because they could provide a key cure to one of the most deadly and common diseases in the world today.
I'm talking about cardiovascular disease.
It's responsible for one out of every three deaths.
It kills more people than cancer.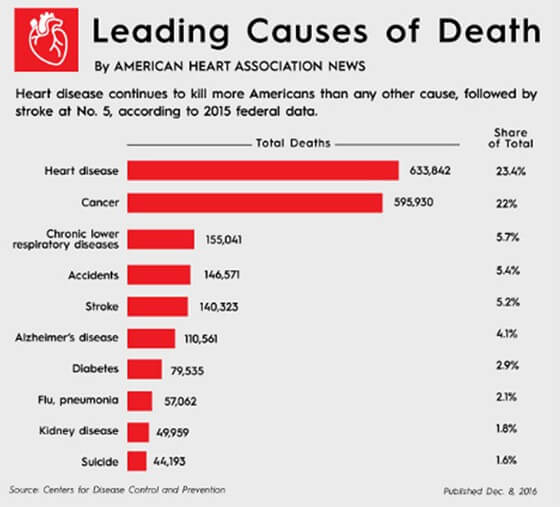 It's also the reason someone has a heart attack every 40 seconds.
And this is why, as of right now, cardiovascular disease costs America alone upwards of $555 billion per year.
Within the next 15 years, that figure is expected to skyrocket to $1.1 trillion. PER YEAR.
But I tell you this not to alarm you.
I'm bringing you this information today because one company has come up with what is being hailed as THE solution to end cardiovascular disease for good.
This means it could end heart attacks and strokes. Forever.
Here's why…
Right now, approximately 27.4 million people are on some type of drug that is supposed to help treat cardiovascular disease.
But those medicines don't work for an astounding 19.4 million of them.
In other words, nearly three quarters of Americans currently taking medicine to treat their cardiovascular disease are still at risk because the drugs simply aren't working.
That's where the tiny pill I showed you comes into the picture.
See, the underlying cause of cardiovascular disease is a buildup of cholesterol in the arteries of the heart.
And as of right now, more than 102 million Americans have what is considered to be high cholesterol.
This means nearly a third of the entire population is at risk of cardiovascular disease.
Now, for the longest time, the best way to combat high cholesterol was something called a statin drug.
They work by blocking the enzyme in the liver that produces cholesterol.
But there's one huge problem with statin drugs…
As I just mentioned, these drugs simply don't work effectively for 70% of the people taking them.
That's why today's discovery is so massive.
See, the company I've been telling you about has found a way to lower cholesterol without using statins.
This is why I refer to this breakthrough as the Holy Grail of medical discoveries.
It's unprecedented.
As you might imagine, a discovery this massive has the potential to pay out ridiculous sums of cash to early investors.
Let me briefly explain exactly why…
Phase 3 Results Are In,
Could Lead to 1,000% Gains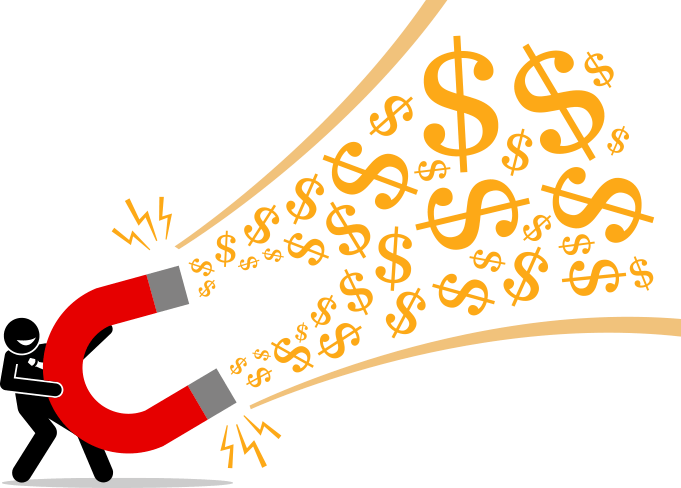 Phase 3 is a HUGE launching pad for a new drug.
It usually involves up to 3,000 participants who have the underlying condition that the medicine is aimed to treat.
Now, trials in this phase can last for several years.
But here's the kicker.
This company's drug has already completed Phase 3 trials.
And the results were extraordinary.
9 out of 10 people who were tested using this new drug showed a 50% drop in bad cholesterol (which causes cardiovascular disease).
Those are results you simply don't see every day.
In fact, Biopharma Dive – a leading reporter of pharma news – says this company "has hit a homer" with its newest results.
And it's results like these that lead to massive gains in the stock market.
But these clinical results alone aren't what make this specific discovery so ground shaking…
Could This Be The
Best-Selling Drug of All Time?
When someone is diagnosed with high cholesterol, as I said earlier, they're put on a statin drug.
Usually it's one of the usual suspects: Lipitor, Zocor, or Crestor.
And even though these drugs have long lists of side effects and have been proven not to be all that effective…
They're the best medicines available.
In fact, Lipitor became the best-selling drug of all time, raking in more than $125 billion in sales during its first 14 years.
And Crestor wasn't far behind, as it was prescribed an astounding 19 million times over a one year period.
But here's the thing.
Lipitor – or any of the other competitors – can't hold a candle to what the company I've been telling you about today has developed.
And it's not exactly hard to see how this new drug could easily become the NEXT all-time best seller.
This is just too good to pass up.
It could be the easiest 10-bagger you ever earn.
And a lot of that potential has to do with the fact that this company has NO competition whatsoever.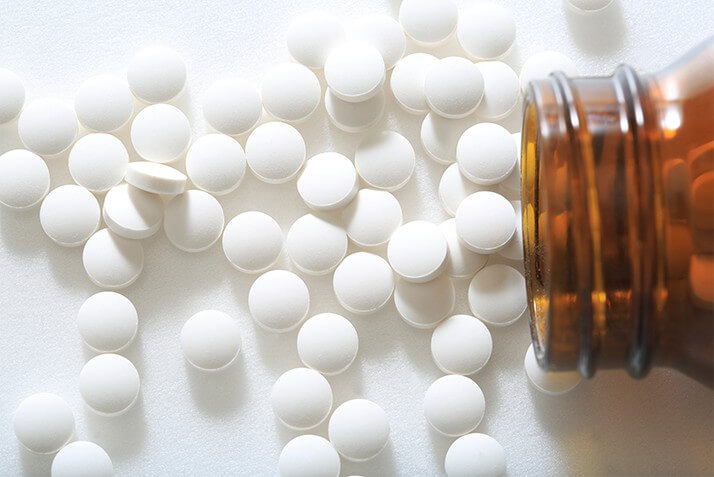 No Competition Could Mean
10x Your Money Within Months
Here's the thing about the pharma world…
It's all about exclusivity.
Once a company manages to develop a drug, they tend to hold the rights to that medicine for A LONG time.
Think about Viagra.
It was invented back in 1996.
And it wasn't until this year that the patent was up for expiration.
That means Pfizer had the right to their magic blue pill for almost 25 years.
So this means today's company will have a very long leash on their patent…
And it's just another feather in their cap…
Along with another reason why investors could make a killing.
Imagine a world changing drug that one company owns… and no one will be able to touch it for decades.
They'll DOMINATE in sales and could change the pharma world forever.
It's as clear a sign of earning 10x your money as you'll just about ever see in the stock market.
In fact, I'm quite confident in saying that because pharmaceutical stocks like this have a very long history of making people rich…
Pharmaceutical Discoveries
Lead to 8,497% Gains
Abbvie is an American pharmaceutical company that spun off from Abbott Laboratories in 2011.
There was some speculation as to exactly why this happened, but in short order, the new company made huge strides in treating cancer and cystic fibrosis.
As a result, their stock soared.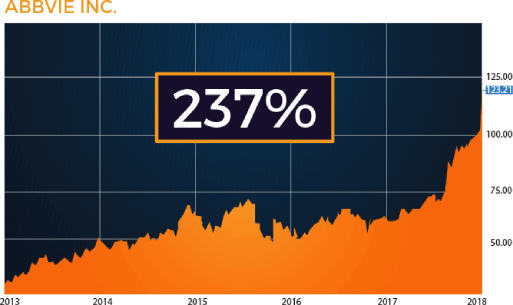 Investors who got in early, before the major action, watched as gains of 273% rolled in.
That's enough to turn every $1k invested into $3,700.
That's a gain anyone would be proud to rake in…
But here's the thing.
Those gains are actually tiny compared with what's happened across the broader industry.
Check this out…
Today, just about everyone knows the name GlaxoSmithKline.
They're one of the biggest pharmaceutical companies in the world.
But it wasn't always that way.
Once upon a time, they were a tiny company, fighting to stay relevant.
At the time, shares traded for just
But by 1999, they were the third-largest pharmaceutical company in the world and had patents for drugs that treated migraines, asthma, cold sores, and even AIDS.
This was exceptional news for people suffering from those diseases…
But it was also phenomenal for investors who got in on the company early.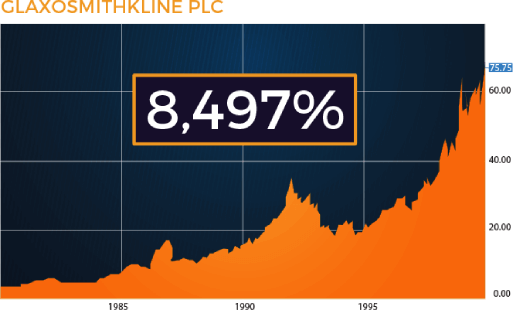 In all, the company went on an 8,497% run.
Those are dream gains.
Imagine. Every $1,000 turns into $85,000.
Or if you'd put in $10k, you could have been sitting on nearly a million bucks.
THAT is how rich pharmaceutical companies stand to make investors when they make a game changing discovery.
And while you won't make 8,000% on every company in the pharma industry, plenty of other companies have paid out absolutely massive gains as well…
496% on Astrazeneca
2,150 on Bristol Myers
2,541% on McKesson
3,756% on Merck
4,751% on Eli Lilly
And the list goes on. These are just a few of the pharma companies that have given ordinary investors the chance to grow quite wealthy.
Today's opportunity is no different.
The Easiest Ten-Bagger
You'll Ever Earn
The company I've uncovered is on the verge of changing the cardiovascular disease landscape forever and could produce the easiest ten-bagger you'll ever earn.
After all, they've pioneered a game-changing drug that has been hailed as a "cholesterol buster."
So where other drugs have failed or made minimal impact, this drug has proven in clinical tests to be the holy grail of cardiovascular disease.
Now, if you're interested, the science behind it looks something like this:

Of course, I don't expect you to understand what that means.
But it's not really important if you can decode what exactly those images mean.
What IS important, however, is that it's the key behind one of the most important medical discoveries in recent history.
And it's put you in front of an investment opportunity that comes along once a decade – if you're lucky.
I'm talking about a potential ten-bagger here.
And this isn't some fly-by-night company.
They've been around for more than a decade now.
And what they've discovered and are about to release to the masses is a way to combat the number one disease on Earth.
This simply doesn't happen everyday.
This is a once-in-a-decade opportunity.
Of course, you might be wondering who I am and why you should listen to what I'm saying today.
My Name is Ian Cooper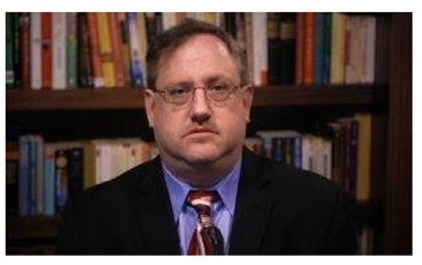 Over the last 20 years, I've leveraged a blend of technical, fundamental and news analysis to succeed with stocks, options, and ETFs.
I was one of the few that called the bottom and top of housing, the top of subprime and Alt-A, the death of Lehman Brothers and Bear Stearns, the collapse of the UK economy, and the Dow's drop to 6,500.
I even called for gold to rally well above $1,000 when it traded under $850.
I've shown thousands of investors how to exploit "market extremes" for lightning fast, short-term gains.
I developed seven proprietary indicators that have led to successful calls on the biggest spikes and dips in the markets.
And RIGHT NOW, I'm pounding the table on an under-the-radar pharma company that holds the key to solving THE most deadly disease in the world.
I'm not trying to brag here, far from it.
I just want you to see how serious I am about making money, and the road I've taken to do it.
It's a road many analysts haven't traveled, and in most cases they couldn't even if they wanted to.
I've grown my career in the industry of finance, and I've held so many positions that I've picked up more secrets and tricks for making money than most people ever get a chance to see.
And if there's one thing I learned, it's that you don't need a degree from some fancy business school to be a successful investor.
I wasn't exactly set up on the traditional path to investment riches.
But if I learned anything quickly once I got into investing… it's that anyone can do it.
You just have to learn to do it right.
Many people don't have the disposition or the emotional fortitude to handle investing the way the experts do it.
But everyone CAN if they want to.
They just have to be able to think outside the box a bit and temper their emotions.
I figured that out early, and I was lucky.
And it led to a great bit of success, for both me and those who invested their money with me.
So, yeah, you don't need the investing pedigree of Warren Buffett to make money.
And you don't need his bank account either.
You just have to be willing to think outside the box…
And the company I'm about to reveal is the perfect way to get started…
With as little as a few hundred bucks.
Of course, not every opportunity revolves around the pharma industry.
As I just said, you have to be willing to look in every nook and cranny of the markets in order to make real money.
And right now, the hottest opportunity on my radar is the one I've been telling you about today.
In short, it's time to BUY, BUY, BUY!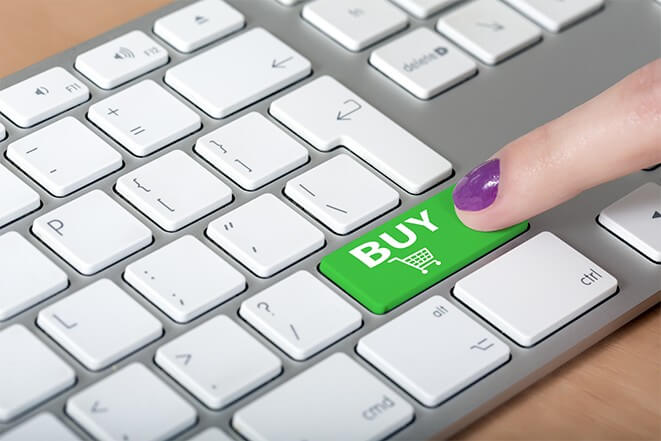 And today, as I said, I'd like to send you the name and ticker symbol of this companies.
But I won't stop there. I'm also going to tell you when to get in (NOW) and when to get out in order to maximize your potential gains.
First, though, let me quickly show you how I found this stock… and ALL the stocks that I end up recommending.
Because it's important you know the level of research I put into finding these triple digit and above opportunities…
Finding Triple-Digit Gains Can Be Like Taking Candy From a Baby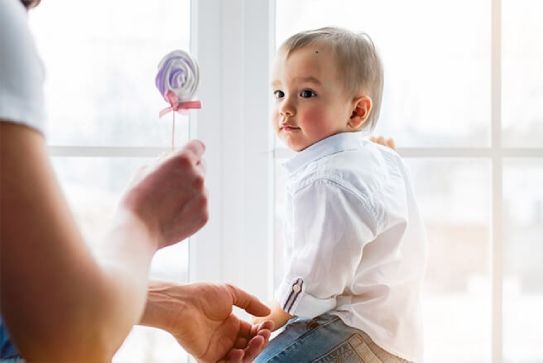 I don't know about you, but even though I've been in the investing game for a long time, I still remember my first triple-digit winner.
And I know it felt pretty darn good.
In fact, that's an understatement. I felt like I'd won the lottery.
Since that day, I've nailed more triple-digit winners than I can count, but that doesn't mean I don't enjoy each and every one.
So I dedicated my time to devising a way to bank triple-digit winners on an alarmingly consistent basis.
In other words, I want EVERY stock I buy to have a chance at doubling in value.
Now I know that's every investor's dream, but today it could become a reality for you.
See, the strategy I've devised for banking monster gains allows for: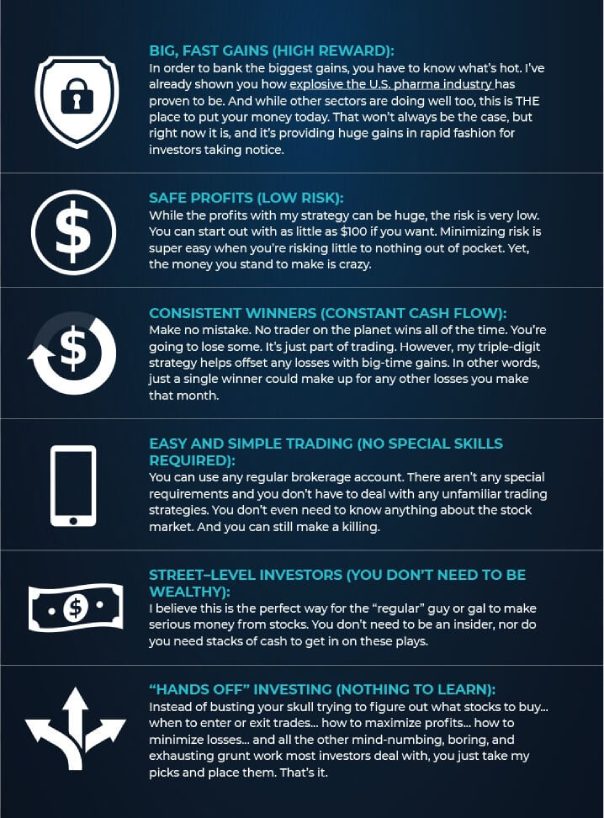 Pretty easy, huh?
When you know what to look for, like I've dedicated my life to doing, nailing down triple-digit winners like clockwork is like taking candy from a baby.
And it all revolves around one simple mantra…
Undervalued Stocks =
Huge Profits
The single-most important secret to bagging triple-digit gains is by finding THE most undervalued stocks in the market.
Just like the company I'm about to reveal to you.
I've uncovered this opportunity early, and right now, it's incredibly undervalued.
This means potential "retire now" profits are right around the corner for those who get in early (right now).
So how did I come across this company?
Easy.

As you can see, I have a very specific list of things I look for… and what I just shared with you is a brief version of how you could earn triple-digit gains time and time again.
And this is how you use this information to bank huge gains over and over…
Like you'll have the chance to do with today's opportunity.
Your First Triple-Digit Gain
is Right Around the Corner
I'd like to show you that banking triple-digit gains doesn't have to be like solving a 10,000 piece puzzle.
In fact. it only takes TWO easy steps…


So, I came up with the idea of creating an advisory service that revolves ONLY around potential triple-digit gains.
I call this stock advisory service, aptly enough, Triple Digit Returns.
And today, I want to give you a 60-day preview of this service.
There's NO risk or obligation on your part.
You simply agree to take this sneak peek, and I'll send you a weekly pick that has a very real chance to net you triple-digit gains (starting with the three pot companies I just shared with you).
You could potentially make thousands — perhaps even tens of thousands of dollars — without hardly lifting a finger. As I've said, I'll do all the heavy lifting for you.
You simply place the trades I give you, and you're good to go. That's it.
Of course, I'm not making any full-on guarantees in regards to what kind of money you'll make with my picks.
No one can do that.
But if history is any indicator, and it usually is, you stand to make more money than you ever have before.
There's a VERY good chance that during this 60-day trial period, you'll come out way ahead of where you started.
You may even make more money trading stocks than you do at your current job.
So I'm making this a "can't lose" proposition for you.
Because I'm just like you… I don't believe in taking risks that I don't have to.
So, I'm not going to ask you to risk anything either.
You'll have 60 full days to try Triple Digit Returns and see if it's right for you.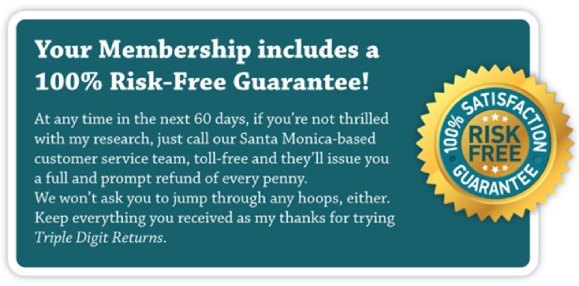 During that time you'll receive TEN potential triple-digit winners right in your inbox.
Not only that, but I'll also send you a weekly follow-up to keep you abreast of all plays we've made and how they're performing.
And of course, you'll immediately receive the exclusive NEW report I just finished putting together…
"The Miracle Medicine: How One Company is About to Solve The World's Most Deadly Disease and Pay Out Potential 1,000% Gains"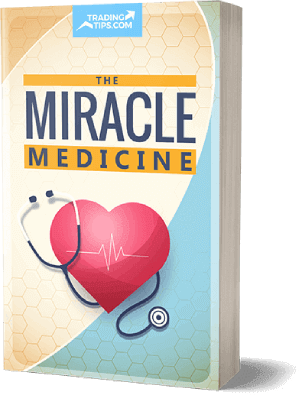 And the only thing you have to do is read my recommendations and make the trades if you so choose.
So if you're ready, let's get down to business…
Here's What You'll Get With
Triple Digit Returns
Keep in mind, the purpose of this offer is to help you bank triple-digit gains on a consistent basis… something almost NO investor can do properly.
By following my recommendations, you'll stand to bank a nice profit from the picks I'll send to your inbox during the next 60 days.
To make sure that happens, here's a reminder as to what you'll receive during the next 60 days and beyond:
Weekly Profit Picks: Every week I'll send you a play that I believe is primed for a triple-digit run. Each play will be picked using my proprietary strategy to identify potential triple-digit winners with regularity. Even if you only take action on one play per month, that's still 52 potential triple-digit winners over the course of a year. Imagine what that would feel like.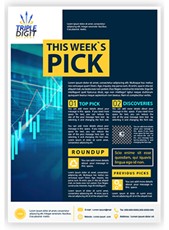 Weekly Follow–Ups: At the end of each week, I'll make sure to send you a summary of the picks I sent out, how they're doing, and you'll see how much money you should have made.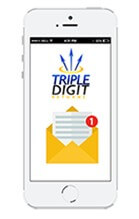 Private Members-Only Website Access: You'll have access to a VIP customer service line that will be your aid for any question you might have. You can call in with any question, and the Triple Digit Returns team will be there to help you out. We can also answer any questions through email if you'd prefer.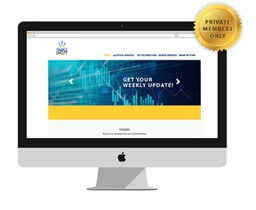 Triple Digit Returns VIP Customer Service: You'll have access to a VIP customer service line that will be your aid for any question you might have. You can call in with any question, and the Triple Digit Returns team will be there to help you out. We can also answer any questions through email if you'd prefer.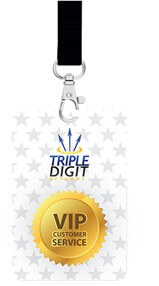 Premiere Report – "The Miracle Medicine: How One Company is about to Solve The World's Most Deadly Disease and Pay Out Potential 1,000% Gains" As a premiere Triple Digit Returns member, you'll get this report, which I'll send out to those who are ready to take action today. This report will detail the name of the company, the ticker symbol, and exactly how to take action on this potentially explosive situation.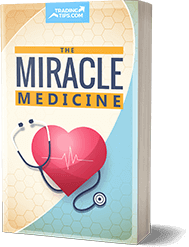 FREE Bonus Report #1 — How to Identify When a Stock Is Starting to Trend: In this special report, we reveal the details of a highly reliable indicator that tells investors when a trend is starting and then signals when the trend is over. (A $49 value)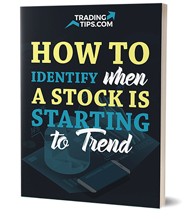 FREE Bonus Report #2 — 5 Chart Patterns That Consistently Make Money for Investors: These five patterns have been shown to consistently make money for investors. (A $49 value)
FREE Bonus Report #3 — 7 Cheap and Good Stocks to Buy Right Now: Cheap and good are usually two competing qualities of a stock. It can be incredibly hard to find a company that offers you both. In this special report we share the reasons these 7 stocks in particular are both cheap AND good right now. (A $197 value)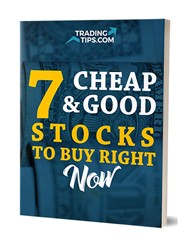 Another important point: Unlike other alert services, Triple Digit Returns doesn't get "cash kickbacks" to endorse or promote any specific stock.
You see, some services pull a devious ploy to cheat investors out of their hard-earned money.
Greedy alert services will often (more often than you think) get paid to endorse picks they provide. Therefore, the scam artists running these schemes don't have any real incentive to be accurate.
They make money by "pushing" the stocks… not by diligently picking stocks that make their subscribers money.
A search on the term "pump-and-dump" in Google brings up thousands of web pages… many with accounts of this kind of scheme.
It makes me furious… and it gives our industry a bad name.
Triple Digit Returns is different because, as I already mentioned, I have a very specific system for choosing the right stocks to trade.
They need to have a game-changing product, business strategy, or deal in place that I've verified is legit and has the potential to send their share price soaring.
I also want to get the best bang for the buck… that's why I look for companies that are incredibly undervalued and SHOULD be trading much higher.
And then I make sure that whatever the catalyst is that's set to return triple digit gains on the stock, is sustainable. I don't want any quick flash-in-the-pan winners that run up 300% in a week and then give all those gains back a few days later.
You see, my reputation is on the line every time I send out an alert.
And that's another reason I'm offering you this 60-day trial today… to prove my alert service works and is above (way above) board.
So today I'm making this special offer to you…
Get Triple Digit Returns
For Just 28 Cents a Day
Subscribe to Triple Digit Returns for one year for only $99.
That's only 28 cents a day.
Dirt cheap for everything you get…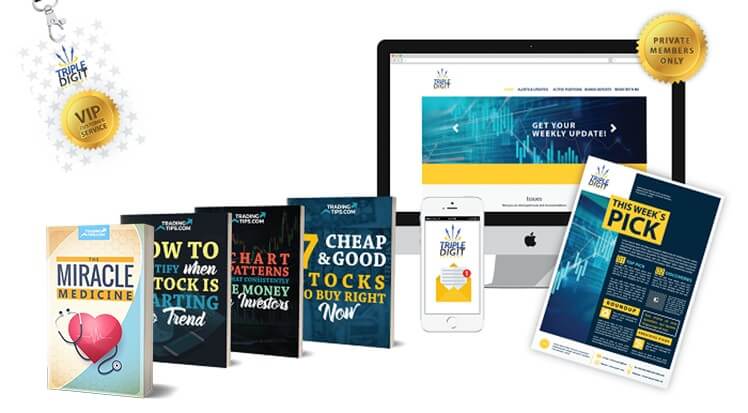 Look at all those bonuses!
In fact, as far as I can tell, this is the best offer I've ever made!
But if Triple Digit Returns is so good, why am I practically giving it away?
Here's the bare-naked, warts-and-all truth…
At $99 we risk losing money. To turn a profit, we need your repeat business.
That means giving you a superior newsletter… one you're so thrilled with, you'll stay with us year after year.
If you don't, we go broke!
Remember our research is 100% independent, so we're not making any money on the side from crappy companies paying us to pump their stocks.
So it's in my best interests to really over-deliver here. Something I'm confident I can do in every way.
That's why Triple Digit Returns is so cheap.
But again, if you don't find this service to your liking, simply let me know within 60 days, and I'll issue you a FULL refund.
After all, I want my readers to be happy, and so far, that's been the case time and time again…
As Miles P. told me, "I've only been with you about 2 months, but so far I am making money. About $7,000 last month."
Or Keith P. who let me know that, "In the six weeks that I have been with you, I have bought, sold, and banked slightly over $10,000 profit."
And there's also Hartmut B. who put it more succinctly, "$7,350 gains in one day."
See what I mean?
If I don't deliver, you don't pay a cent (and you can keep every report AND every bonus you'll receive).
But if I do deliver…
This time next year you could be drinking cocktails on a beach…
Forever free from the rat race and without a care in the world…
Simply because today, you made the decision to give Triple Digit Returns a try.
When you think about it like that, you simply have to respond to this offer right away.
There's really no reason why you shouldn't…
Here's What to Do Now
Most people haven't heard about the stock detailed in this new special report. But that won't last.
Things are going to move fast, and you need to get in position now, not later, to ensure full profit potential…
To get started, simply click on the "Join Now" button below, which will take you to a secure order form. Your order will be processed immediately, and you'll have access to all of my work in a matter of minutes.

But hurry! This opportunity will not wait, and I'd hate to see you miss out.
Sincerely,

Ian Cooper
Editor, Triple Digit Returns
June 2020